Introduction to Jim Wesberry
GIVING THANKS
E-Magazines by Jim Wesberry
THE REAL INVISIBLE HAND / LA MANO INVISIBLE VERDADERA ............(traducción en español más abajo)
THE FALTERING EAGLE: Speech made in 1970
ENFRENTANDO LA CORRUPCION EN TIEMPOS DE COVID, Conferencia - Profesionales del Bicentenario del Perú
ETICA E INTEGRIDAD, Congreso Organos Internos de Control, del Estado de Guanajuato, Mexico via Zoom
EL IMPACTO DE LA INTEGRIDAD, presentación en el Foro ISAF de Sonora, Mexico via Zoom
75 ANIVERSARIO DE LA Federación Nacional de Contadores del Ecuador
VIDEO: El Auditor Frente sus Tres Mayores Desafíos
MIAMI KEYNOTE: Public Financial Management, 2016
CONFERENCIA: CONTROL INTERNO Y ÉTICA: ESTARÍAN PERTINENTES EN 2025?
CONFERENCIA 6a Conferencia de Auditores Ecuador: El Auditor Interno Frente sus Tres Mayores Desafios
CONFERENCIA CReCER 2015: Empresas Estales en Busca de Etica---State Enterprises in Search of Ethics
CONFERENCIA QUITO HONESTO: Ambiente Etico = Municipio Eficiente: Principios de Conducta Etica, 2014
DOCTORADO HONORIS CAUSA - UNIVERSIDAD INCA GARCILASO DE LA VEGA, LIMA, PERU - 2013
DECORATION BY THE PERUVIAN GOVERNMENT 1972
My Work in Peru / Mi trabajo en el Perú
CONFERENCIA EN HUANUCO, PERU - El Auditor enfrenta la Erupcion de Corrup$ion del Siglo XXI -2013
CONFERENCIAS EN CHILE - 3 Mayores Desafios al Auditor Interno - 2012 - VIDEO y TEXTO
DOLLARCRACY ->>>>>>>>>>>>>>>>>>>>>>>>>>> $$$ COUNT.........PEOPLE DON'T
THE CONTINUING FINANCIAL CRISIS
GEORGIA CORRUPTION ON MY MIND
Personal Information
My Resume (in English)
Mi Curriculum Vitae (en español)
Personal Photo Album
Technology Use in Fighting Corruption
ACTIVITIES & EVENTS INITIATED
The Top Quartile of Life
AMERICA IN DECLINE? The Life Cycle of a Great Power
ACCOUNTANCY & AUDITING: MY CHOSEN PROFESSION
SERVICE AS PAGE IN US HOUSE OF REPRESENTATIVES 1949-51
SPECIAL INVESTIGATOR OF CORRUPTION IN STATE GOVERNMENT 1959-60
LEGENDS: Georgians Who Lived Impossible Dreams
Wesberry v. Sanders, 376 US 1 Landmark US House Reapportionment Case
POLITICS - MY FIRST CAMPAIGN 1961
POLITICS - ELECTION TO GEORGIA STATE SENATE 1962
Press Clips from Georgia Senate Service
The Best Speech I Ever Made
Why I Quit the Georgia Senate
Congressional Testimony
Activities in the Junior Chamber of Commerce
Contador Benemerito de las Americas (Most Meritorious Accountant of the Americas)
Articles from The Journal of Accountancy
My Credo
Media
Interview about Leadership
ACCOUNTABILITY - RESPONDABILIDAD
THE EVER GROWING, EVER STIFLING BUREACRACY
PONZIS and PIRAMIDES
THE NATIONAL DEBT
GRAPHIC DISPLAY OF US DEBT
CALCULATE YOUR DEBT LIABILITY
Fraud-Corruption-Bribery
Collusion Breaks Internal Controls
FORENSIC AUDITING --- AUDITORIA FORENSE
ETHICS
FRIENDSHIP - AMISTAD
Creencia - Belief
Think -------- Pensar
WOMAN -------------- MUJER
Dawn
Message to Garcia - Mensaje a García
THE GREATEST SPEECHES OF ALL TIME
Education
Interesting!
POEMS
ATLANTA, GEORGIA USA - MY HOME TOWN
WASHINGTON DC - MY OTHER HOME TOWN
PERU
ECUADOR
MEXICO
PHILIPPINES
COLOMBIA VS KLEPTOKAKISTOCRACIA: Presentación para el Día Internacional Anti-Corrupción 2011
LECTURE AT MANILA'S UNIVERSITY OF THE EAST: Integrity & Honor, Corruption & Dishonor VIDEO
MANILA LECTURES AT FAR EASTERN & SANTO TOMAS UNIVERSITIES: Good Governance and Social Responsibility
EFFECT OF 2008 GLOBAL CRISIS (JW presentation in English)
SEGUNDA GRAN DEPRESION 2010 (JW presentaciónes en español)
Speeches - English
More Speeches
Conferencias / Discursos - Espanol
Mas Conferencias / Discursos
Power Point Presentations
ANTI-CORRUPTION EVENTS & REPORTS
Favorite Links
Quotes by Jim Wesberry
Documents, Articles - Documentos, Articulos
Books Read
From the Past
Contact Me
Family Photo Album
The Wesberry Surname
Miscellaneous
Last Page

ANY TWO SOURCES THAT AGREE ON THE AMOUNT OF THE NATIONAL DEBT ARE PURELY COINCIDENTAL...no one seems to really know how much it actually is but so what, the amounts are so large no one can possibly conceive of or understand them. Here is all we can find out.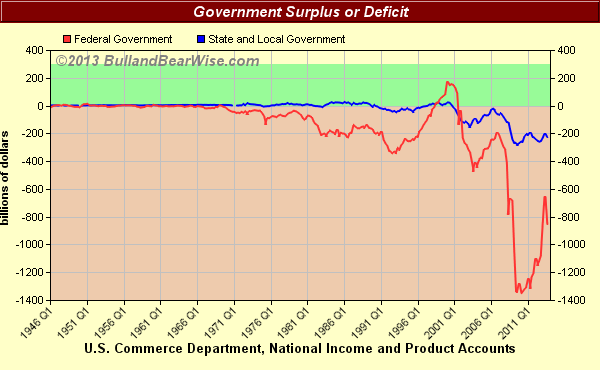 .
Video Course:
El Departamento del Tesoro de Estados Unidos anunciaba que la deuda nacional asciende ya a más de 12 billones de dólares, concretamente a 12.031.299.186.290,07 dólares. Significa eso que cada norteamericano tiene ya una deuda de casi 39.000 dólares.

Para valorar lo que significa un billón de dólares piénsese que con esa cantidad (o sea con una doceava parte de la deuda actual de EE.UU.) se pueden cubrir todos los gastos militares de todos los países de la OTAN. También, con un billón de dólares se dobla el coste total del "New Deal" de Franklin Delano Roosevelt y se multiplica por diez lo que costó el Plan Marshall, ajustando en ambos casos la inflación. Con un billón de dólares, en fin, se podrían comprar 91.146.205.956 Cristianos Ronaldos…

Para hacernos una idea visual de lo que significa un billón de dólares, piénsese que si pusiéramos una fila de billetes de un dólar, uno tras otro, podríamos hacer una cadena seguida desde la tierra al sol. Como hablamos de 12 billones, se podría hacer una cadena de billetes de dólares que realizarían seis viajes de ida y vuelta al sol.

(Nota: Un billón en español es un trillón en inglés.)
VIDEO:
A Future of Debt

>> Exploding debt threatens America with 100% inflation<<
Standard and Poor's decision to downgrade its outlookfor British sovereign debt from "stable" to "negative" should be a wake-up call for the US Congress and administration. Let us hope they wake up.
Under President Barack Obama's budget plan, the federal debt is exploding. To be precise, it is rising – and will continue to rise – much faster than gross domestic product, a measure of America's ability to service it. The federal debt was equivalent to 41 per cent of GDP at the end of 2008; the Congressional Budget Office projects it will increase to 82 per cent of GDP in 10 years. With no change in policy, it could hit 100 per cent of GDP in just another five years...
...the risk posed by this debt is systemic and could do more damage to the economy than the recent financial crisis. To understand the size of the risk, take a look at the numbers that Standard and Poor's considers. The deficit in 2019 is expected by the CBO to be $1,200bn (€859bn, £754bn). Income tax revenues are expected to be about $2,000bn that year, so a permanent 60 per cent across-the-board tax increase would be required to balance the budget. Clearly this will not and should not happen. So how else can debt service payments be brought down as a share of GDP?
Inflation will do it. But how much? To bring the debt-to-GDP ratio down to the same level as at the end of 2008 would take a doubling of prices. That 100 per cent increase would make nominal GDP twice as high and thus cut the debt-to-GDP ratio in half, back to 41 from 82 per cent. A 100 per cent increase in the price level means about 10 per cent inflation for 10 years. But it would not be that smooth – probably more like the great inflation of the late 1960s and 1970s with boom followed by bust and recession every three or four years, and a successively higher inflation rate after each recession.
The fact that the Federal Reserve is now buying longer-term Treasuries in an effort to keep Treasury yields low adds credibility to this scary story, because it suggests that the debt will be monetised. That the Fed may have a difficult task reducing its own ballooning balance sheet to prevent inflation increases the risks considerably. And 100 per cent inflation would, of course, mean a 100 per cent depreciation of the dollar. Americans would have to pay $2.80 for a euro; the Japanese could buy a dollar for Y50; and gold would be $2,000 per ounce. This is not a forecast, because policy can change; rather it is an indication of how much systemic risk the government is now creating...(Click on image below to read this important article).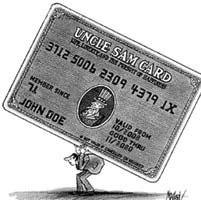 Rising Interest on Nations' Debts May Sap World Growth
The International Monetary Fund estimates that gross U.S. debt will reach 97.5 percent of the country's GDP in 2010, versus 72.7 percent of GDP for the United Kingdom.
Leap in U.S. debt hits taxpayers with 12% more red ink
- TOTAL DEBT
Note: In my opinion, the only way this debt can ever be paid off is by the devaluation of the dollar...JW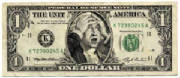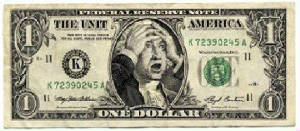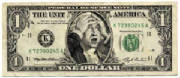 T
    H
       E 
          F
             A
                L
                   L
                      I
                        N
                           G
                                                    $                                                                                                 
 The dollar weakened beyond $1.43 against the euro for the first time in 2009 on bets record U.S. borrowing will undermine the greenback, prompting nations to consider alternatives to the world's main reserve currency.
The euro gained for a fourth day versus the dollar as the Russian government said emerging-market leaders may discuss the idea of a supranational currency. The pound rose to the highest level since October and the Canadian dollar traded near an eight-month high on speculation signs of a recovery in U.S. and U.K. housing will spur higher-yield demand.
"There's been a lot of talk out of Russia about a new global currency, and that's contributing toward this latest bout of dollar weakness," said Henrik Gullberg, a currency strategist in London at Deutsche Bank AG, the world's largest currency trader. "These latest comments are just adding to the general dollar weakness we've seen recently."
SINCE 1914 DOLLAR DOWN 96%
While the government can decree that it be used as a medium of exchange and serve as a unit of measurement, the U.S. Dollar has proved to be a poor store of value. A basket of goods that cost $100 in 1913, when the Fed was formed, cost $409 in 1971 and now cost $2,152. Over the 96 years that the Federal Reserve System has been in existence it has inflated the money supply (M2) 500-fold, from $16.4 Billion in 1914 to $8,264 Billion in April, 2009. The U.S. Dollar has lost 96 percent of its value.

"...an explosion of federal borrowing
during the recession, plus an aging
population driving up the costs of
Medicare and Social Security...the
biggest leap in the long-term burden
on taxpayers since a Medicare
prescription drug benefit was added in
2003....(reaching) a record $546,668
per household in 2008, according to a
USA TODAY analysis. 'That's quadruple
what the average U.S. household
owes for all mortgages, car loans,
credit cards and other debt
combined. 'We have a huge implicit
mortgage on every household in
America — except, unlike a real
mortgage, it's not backed up by a
house,' says David Walker, former U.S. comptroller
general, the government's top auditor."
KEY FEDERAL OBLIGATIONS:
• Social Security. It will grow by 1 million to 2 million beneficiaries a year from 2008 through 2032, up from 500,000 a year in the 1990s, its actuaries say. Average benefit: $12,089 in 2008.
• Medicare. More than 1 million a year will enroll starting in 2011 when the first Baby Boomer turns 65. Average 2008 benefit: $11,018.
•Retirement programs. Congress has not set aside money to pay military and civil servant pensions or health care for retirees. These unfunded obligations have increased an average of $300 billion a year since 2003 and now stand at $5.3 trillion.
TO SEE AN INTERACTIVE DISPLAY OF FEDERAL AND PERSONAL DEBT AND READ THE FULL USA TODAY ARTICLE CLICK HERE

.
US DEBT HELD BY CHINA $ 739,600,000,000  AT JAN. 31, 2009
Over the course of fiscal year 2008, changes in economic conditions, financial markets, and fiscal policy as well as a reduction in nonmarketable debt issuance have caused an increase in the Government's marketable borrowing needs. Financial market strains have impacted the real economy, and the nation has experienced lower economic growth, lower receipts, and increased outlays. The Government has responded to the increase in marketable borrowing requirements by increasing issuance sizes of regular bills, the frequency, terms, and issuance sizes of cash management bills, and the issuance sizes of nominal coupon security offerings. (from notes to US Government Financial Statements)____________________________________________________
China foreign exchange reserves at $1.954 trillion


Apr 11, 2009 BEIJING (AP) - China's central bank said Saturday that its foreign exchange reserves rose 16 percent year-on-year to $1.9537 trillion by the end of March. China's reserves, already the world's largest, increased by $7.7 billion in the first quarter - $146.2 billion less than the same period last year, the People's Bank of China said in a notice on its Web site. That rise was substantially less than the fourth quarter increase of almost $45 billion, according to China's official Xinhua News Agency, showing the impact of slowing exports due to the financial crisis. In March, the reserves increased by $41.7 billion, it said, $6.7 billion more than the same period last year. Analysts believe China holds up to 70 percent of its foreign reserves in U.S. dollar-denominated assets, including Treasury securities...AP
Whenever you find you are on the side of the majority, it is time to pause and reflect
--- Mark Twain
We have never observed a great civilization with a population as old as the United States will have in the twenty-first century; we have never observed a great civilization that is as secular as we are apparently going to become; and we have had only half a century of experience with advanced welfare states...Charles Murray
This is a personal website containing personal information and some news and personal opinions on certain issues affecting democratic governance of interest to me and my friends, associates and seminar participants. The financial information, charts, etc., consist of items I find interesting. Draw your own conclusions from it.
Copyright Notice: In accordance with Title 17 U. S. C. Section 107, any copyrighted work on this website is distributed under fair use without profit or payment to those who have expressed an interest in receiving the included information for nonprofit research and educational purposes only. Ref.:

http://www4.law.cornell.edu/uscode/17/107.html
<script type="text/javascript" src="https://platform.linkedin.com/badges/js/profile.js" async defer></script>